Founded in 2012, Strategic Leader Coaching specializes in leadership mastery and team collaboration. We provide professional development tools and support to guide you in unleashing your potential to lead your team towards success. At Strategic Leader Coaching, we clear barriers in leadership thinking, helping you connect with your unique leadership style to achieve organizational goals.
Chief Executive Officer, Coach
Kyle Kalloo stands at the helm as the Chief Executive Officer and Executive Leadership Coach at Strategic Leader Coaching. With more than two decades of dedicated coaching and consulting, Kyle is a distinguished authority on leadership, innovation, and transformative change.Raised in the West Indies, Kyle's attraction to chaos and subsequent mastery of structure and alignment have shaped his unique approach to leadership and business. Whether in his personal ventures or coaching relationships, Kyle employs a systematic yet adaptive methodology anchored in foundational principles like accountability, transparency, integrity, inclusion, and a deep respect for individuals.
Kyle's innovative and straightforward approach has propelled him to a proven record of exceptional results. His accolades include several networking awards and the distinction of being part of a 3-time award-winning coaching. His influence has been pivotal in leadership roles at renowned organizations like WestJet, Famous Players, and McDonald's.
In a demonstration of his unwavering commitment to staying at the forefront of his field, Kyle is currently pursuing an MBA in leadership, innovation, and change at York St. John University, expected to complete in 2024. This educational pursuit underscores Kyle's dedication to continuous learning, sharpening his abilities, and enhancing his innovative insights.
During our sessions, he's shared valuable methods to get the results I wanted for my organization that I haven't found with any other coach. He gives insights on the soft skills needed to manage communications with customers. I recommend Kyle for his knowledge and expertise.
Through thoughtful strategy and extensive (and impressive) work experience, he has earned my respect by delivering immediate results in my interactions with clients and my team. His professional career boasts numerous accolades and I'm grateful that he is passing on his leadership style/knowledge to me.
My coach offered information on prioritizing, generating leads, and long term strategizing for your organization. It is clear he has deep well of knowledge and experience and would benefit any origination or team looking to increase efficiency and/or expand their business.
Christopher Lawrence is more than a coach; he's a revolutionizer of the coaching profession. As the Chief Value Officer and Founder of Change My Life Coaching (Now Strategic Leader Coaching), and Co-Founder of both Change My Business Coaching and the Healthy Transformations Sustainable Weight Loss & Inflammation Reduction Program, he has demonstrated an unwavering commitment to personal and organizational growth.
With a strong foundation in change management, interpersonal conflict resolution, communication enhancement, and motivation fostering, Christopher has guided thousands of individuals and teams. He offers tailored solutions for career clarity, personal motivation, leadership and team accountability, and organizational effectiveness.
Christopher's journey began in 2012, when coaching seized his sails like a gale-force wind, igniting his purpose and passion. His background in the Energy Sector, focusing on Change Management initiatives, equipped him with an understanding of the vital need for team buy-in across all levels of an organization.
Christopher has received several awards and recognition in his field, being the first coaching organization in Canada to be selected for a Consumers Choice Award for three consecutive years. In the area of publications, he is the author of "Go Beyond Passion: Discover Your Dream Job." His achievements continue to impress, as he was named in the Top 15 Coaches in Calgary 2022 by Influence Digest. Furthermore, Christopher is a Masters Candidate in the very first Masters program for Organizational and Executive Coaching through Royal Roads University.
Chief Value Officer, Coach
I no longer jump from job to job; I'm energized, positive, and influential at my workplace. Christopher instilled in me the importance of setting boundaries and pursuing the ideal job. I'm deeply grateful and highly recommend these coaches.
As a team, Strategic Leader Coaching has always made me feel taken care of. As a coach, Christopher displays unreal sensitivity, empathy, and understanding. The tools, strategies, and references he's provided have truly made a lasting impact on my life and leadership.
Coaching has been invaluable to me and instrumental in me gaining clarity and holding myself accountable, particularly in relation to addressing those questions that nobody asks of you. I look forward to continuing my work with Christopher as I move into the next phase of my my life.
Chief of Staff,
Joy Facilitator
Looking to sample some of our workshops? Check out our sessions here!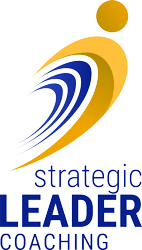 Leave a Google Review for
Strategic Leader Coaching